Elizabeth and her fiancé Michael met us at the Landing in downtown Jacksonville for their engagement photography a few weeks ago. We happened to plan our meeting time just as the Vestcor 5k Bridges run was finishing up. It was unexpected to see so many runners downtown, but it wasn't a problem at all for our session. The runners and spectators quickly cleared up after they passed and soon it was just another beautiful evening perfect for a downtown Jacksonville engagement photography session.
We started the shoot by walking across the MainStreetBridge across the St. Johns River. The bridge is great for taking photos. In my opinion it is the best looking bridge with it's intricate metal work, nice blue paint and blue lights shining on it at night time make it a landmark for our city. The bridge also provides great views of the Jacksonville skyline and Friendship Fountain. There is a sidewalk as well as little platforms we were able to stop and have the lovely couple pose for some gorgeous photos over the river with the city as a backdrop.
From the bridge we continued walking to Friendship Fountain stopping for a few shots on the boardwalk along the river. Friendship Fountain has to one of the most colorful locations at night in Jacksonville. The fountain is illuminated by changing colors of light, which provided a beautiful backdrop for Elizabeth and Michael's engagement photography.
That night there was a chance of showers so we carried umbrellas to have some fun just in case it rained. Although it didn't storm on us and we stayed dry, we decided to have some fun with the umbrellas anyway. It made a great prop for Elizabeth and Michael to finish off our shots in front of the fountain.
We finished off the session back in front of the Landing; we took a few last minute shots and then said our good byes. It was fun working with Elizabeth and Michael and we can't wait to see them on their wedding day.
– Dan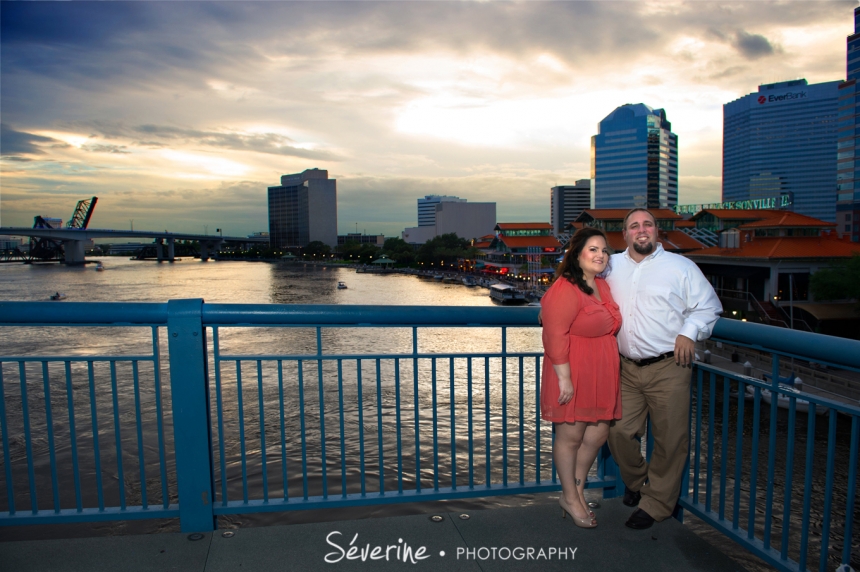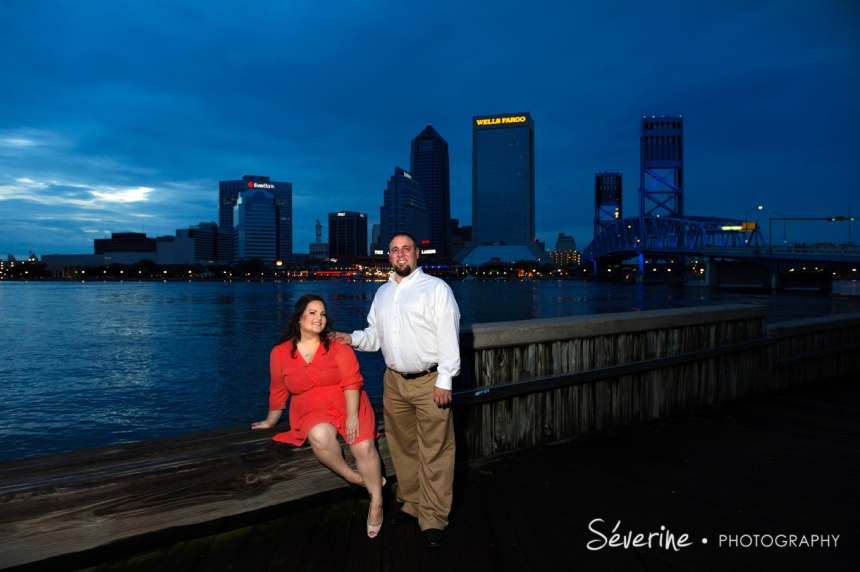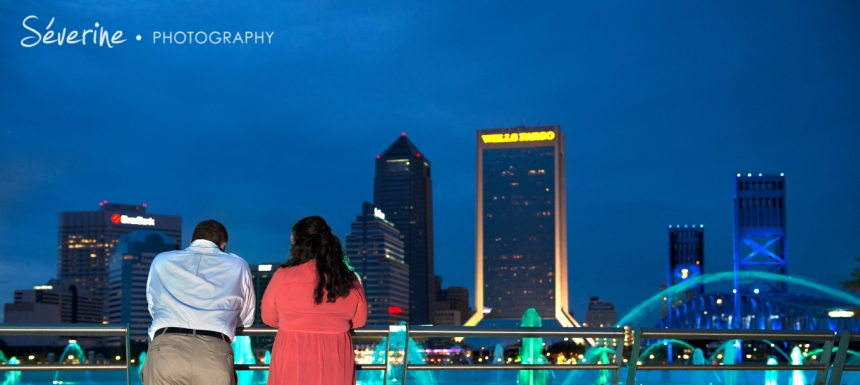 Photographs by Severine Photography
Video teaser: http://youtu.be/37ruqDr3BHc